WHEA Teaching Fellowship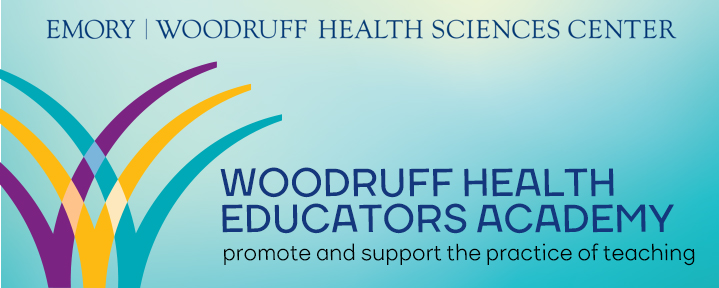 The WHEA Teaching Fellowship is a 12-month program for health sciences educators who want to advance their teaching skills and offer quality instruction to their learners. The fellowship includes monthly two-hour skills development workshops and monthly online intersession discussion groups. All sessions are organized around three domains: Designing and Planning Learning, Teaching and Facilitating Learning, and Assessing Learning.
Upon completion, fellows will be awarded a Certificate of Distinction in Teaching. Graduates will also have the opportunity to teach workshops, as core faculty, to future fellowship cohorts.
Fellowship Objectives:
After completing this WHEA Teaching Fellowship, participants will be able to:
Design, implement, and evaluate learning experiences

Apply key principles of scholarly teaching to the development of a capstone project

Position themselves to be teaching experts and mentors for colleagues across the Woodruff Health Sciences Center
Who Should Apply:
This fellowship is ideal for early career educators from any of the Emory health sciences schools, centers, programs, or practice sites who are dedicated to and passionate about educating trainees, staff, or other colleagues, and who would like to enhance their training in key aspects and strategies of the education process. Click here to apply.
Schedule:
All monthly workshop sessions are on Thursdays from 3-5 PM and intersessions occur ~2 weeks after a workshop session from 4-5PM; Specific Dates & Locations TBA each cycle
NOTE - DURING PANDEMIC: All workshop sessions and intersessions will be conducted online, via Zoom.
| | |
| --- | --- |
| Month | Skills Development Workshops; Thursdays, 3 – 5 PM |
| March | Orientation Event |
| April | Introduction to Curriculum Design and Evaluation  |
| May | Aligning Learning Needs and Outcomes |
| June | Assessing Learning (Part 1) |
| July | Principles of Instructional Design   |
| August | Strategies for Enhancing Teaching and Learning  |
| September | Learner Reflection |
| October | Feedback on Learning and Contemporary Feedback Models |
| November | Assessing Learning (Part 2) |
| December | Principles of Teaching and Learning  |
| January | Introduction to (Adult) Learning Theories |
| February | Pursuing the Scholarship of Teaching and Learning  |
| March | Graduation! [Date & Time TBD] |
Requirements:
Fellows are expected to:
Attend all 11 scheduled workshops

Participate in 75% of online intersession activities

Complete a capstone project

Attend orientation and graduation events
Application Process:
A complete application includes:
Completed application form

Applicant's CV / resume

A personal statement that includes goals and expectations for this teaching fellowship and how this fellowship will enhance your teaching expertise

A letter of support from the dean, department chair, division chief or direct supervisor that addresses the ability of the applicant to be successful in the fellowship, and allows the participant adequate time free from clinical and other responsibilities to meet the fellowship obligations.
NOTE: There is no tuition fee required for this fellowship.
Fellowship Co-Directors:
Taryn Taylor, MD, MEd
Ulemu Luhanga, MSc, MEd, PhD  
Session Instructors:
Hugh A. Stoddard, MEd, PhD
Intersession Facilitators:
Sarah Blake, PhD, MA
Devon A. Greene, MD
Jamika Hallman-Cooper, MD
Kelly Kaysen, MD
Delores Lloyd, RN
Intersession Facilitators:

Emilee Flynn, MD, MPH

Wendy Gibbons, DNP, CNM, MN

Sherita Holmes, MD

Susi Hupp, MD

Vijaya Kancherla, PhD

Ashima Lal, MD

Deborah Laubscher, RN

Taniqua Miller, MD

Kathryn Sutton, MD

Charlotte Whitehead

Keneeshia Williams, MD
Session Instructors:

Yelena Burklin, MD

Devon A. Greene, MD

Jamika Hallman-Cooper, MD

Munish Luthra, MD

Erica D. Marshall Lee, PhD