Kern Fellowship in Interprofessional Leadership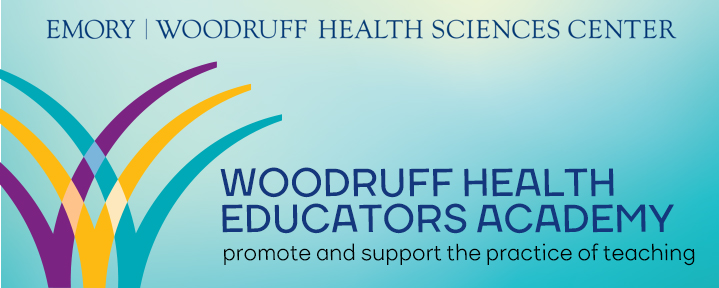 We are delighted to introduce the first cohort of Emory's Kern Fellows in Interprofessional Leadership.  This fellowship, co-sponsored by the Woodruff Health Educators Academy and the Kern Foundation, is a 9-month program for health sciences educators and practitioners who want to be effective change agents in the post COVID era. The program focuses on developing the high-level professional and relational abilities necessary to create interprofessional leadership and professionalism at the individual and organizational level.
The number of highly qualified applicants for the Fellowship greatly exceeded our expectations making the selection process competitive.  The participants chosen were judged to be among the most excellent representing diverse disciplines, backgrounds, and rank. We are confident that the Fellows will contribute meaningfully to interprofessional education and collaborative practice at Emory. Congratulations to the 2021 Kern Fellows in Interprofessional Leadership!
Sincerely,
William Branch, MD, MACP, Carter Smith, Sr Professor School of Medicine, PI of the Kern Fellowship 
Corrine Abraham, DNP, RN, Associate Professor School of Nursing, Co-PI of the Kern Fellowship
Kern Fellows in Interprofessional Leadership 2021

Olatunji B. Alese MD FWACS
Associate Professor
Department of Hematology and Medical Oncology
Emory University School of Medicine
Associate Medical Director
Ambulatory Infusion Center, Winship Cancer Institute

Dimitri Cassimatis MD
Associate Professor
Department of Medicine
Emory University School of Medicine
Chief of Medicine
Emory University Hospital Midtown
Beth Davis, PT, DPT, MBA
Associate Professor
Division of Physical Therapy
Emory University School of Medicine

Latrina T. Geyer, PhD, RN, NPD-BC, NEA-BC
Director for Nursing Leadership and Development
Emory Healthcare
Adjunct Professor
Nell Hodgson Woodruff School of Nursing
Emory University

Holly Gooding, MD, MSc
Associate Professor, Department of Pediatrics
Emory University School of Medicine
Medical Director, Adolescent Medicine Practice
Children's Healthcare of Atlanta

Nitika Gupta MD
Professor, Hepatology and Nutrition
Division of Gastroenterology
Department of Pediatrics
Emory University School of Medicine

Tamara Haynes MD PhD
Assistant Professor
Department of Psychiatry and Behavioral Sciences
Division of General Medicine & Geriatrics
Department of Medicine
Emory University School of Medicine

Ashley Owen, PhD
Assistant Professor
Department of Family and Preventive Medicine
Emory University School of Medicine

Zahidee (Saidie) Rodriguez, MD
Assistant Professor of Pediatrics
Emory University School of Medicine
Cardiac Intensivist
Children's Healthcare of Atlanta Egleston

Anne Tomolo, MD, MPH
Associate Professor, Department of Medicine
Emory University School of Medicine
Associate Chief of Staff for Education
Atlanta VAMC

Erin Weinisch, MPAS, PA-C
Didactic Faculty
Physician Assistant Program
Emory University School of Medicine

Jeannie Weston RN, EdD
Assistant Professor
Nell Hodgson Woodruff School of Nursing
Emory University