2018 WHEA Fellowship in Educational Scholarship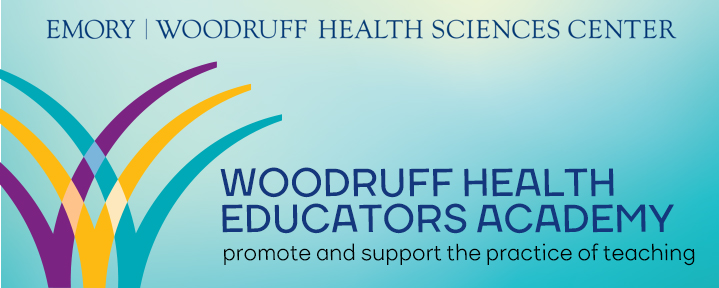 Information for WHEA Fellowship in Educational Scholarship Applicants
***RECORDING OF MARCH 6, 2018 @ 5 PM INFORMATION SESSION: CLICK HERE***

***PLEASE FIND APPLICATION LINK & FAQs AT BOTTOM OF THIS PAGE***
The Woodruff Health Educators Academy (WHEA) was formed to bring together educators across the health sciences at Emory to promote and support the practice and scholarship of teaching and learning.
The WHEA Fellowship in Educational Scholarship is an 18-month program for health science educators who want to develop skills in educational research and scholarship.  The Fellowship includes targeted research skills development in workshop sessions facilitated by national experts and a hands-on educational research project to support fellows' application of these skills. Upon completion, fellows will receive a Medical Education Research Certificate from the Association of American Medical Colleges.
Fellowship Objectives:
After completing this WHEA Fellowship, participants will be able to:
Use strong research skills to develop and implement research studies in their educational area of interest
Analyze outcomes of educational activities and submit them to local, regional, and/or national meetings for presentation and/or publication
Position themselves to become education leaders and experts in their areas of interest
Interact across schools and sites to serve as the foundation for the continued development of interprofessional educational expertise in the health sciences at Emory
Eligibility
Participants will be early to mid-career educators from any of the Emory health sciences schools, centers, programs, or practice sites who are dedicated to and passionate about educating students, trainees, faculty, or others, and who would like to enhance their education scholarship skills. At least two years of educational experience preferred; support of administrative unit required.
Schedule (locations TBA):
All monthly workshop sessions are on Wednesdays from 1-5pm
Workshops will be facilitated by national experts provided by the Association of American Medical Colleges; project groups will be mentored by local educational experts.
Kickoff event: September 12, 2018
Workshop 1 - October 10, 2018: Formulating research questions and designing educational studies
Workshop 2 - November 14, 2018: Measuring educational outcomes with reliability and validity
Workshop 3 - December 12, 2018: Program evaluation and evaluation research
Workshop 4 - January 16, 2019: Data management and preparing for statistical consultation 
Workshop 5 - February 13, 2019: Questionnaire design and survey research
Workshop 6 - March 20, 2019: Introduction to qualitative data collections methods
Project mentoring sessions: monthly April 2019 – March 2020 (timing determined by participants)
Graduation & Projects Presentation event – March 2020, date TBD
Requirements:
Fellows are expected to:
Attend all six scheduled workshops
Attend at least 80% of monthly project group meetings
Complete a scholarly project
Attend kickoff and wrap up events
Cost:
$1200 per participant to be paid by school, department, or applicable administrative unit
Application Process
A complete application includes:
The completed application form (click link below)
The applicant's CV
A personal statement including:

Goals and expectations for this fellowship including current educational scholarship activities and how this fellowship will enhance future scholarship.
A brief description of the type of project that the applicant would like to pursue as part of the fellowship. This does not have to be a fully formed project, rather an idea of what type of educational activity the participant would like to study. Please include any information about others in the educational environment who can help facilitate the proposed work. We are particularly interested in accepting applicants who are most likely to be successful in completing a project.

A letter of support from the dean, department chair, division chief or direct supervisor that addresses the ability of the applicant to be successful in developing, implementing, and disseminating an educational research project. The writer must also agree to support the participant by ensuring the tuition is paid and allowing the participant adequate time free from clinical, teaching, and other responsibilities to meet the fellowship obligations.
Application Deadline: April 1, 2018
Accepted applicants notified: April 15, 2018
 ***PDF VERSION OF INFORMATION SHEET AVAILABLE HERE***
***PDF Version of

Application Form for Review Purposes Only

available: HERE. Please access the online form at the link below to submit your application***
***TO ACCESS APPLICATION FORM AND SUBMIT APPLICATION PACKAGE: CLICK HERE***